We booked a Grab taxi for our trip to Wat Pho. We decided to ride a taxi since we're not familiar with the place and there were four of us—thinking about convenience which was just a little higher in price as compared to taking the train. The first Grab driver who took our request was a girl, and we were so amazed by that! But then, she declined our request after a few minutes, stating that traffic was bad where she was. So we sent another request to any nearby driver. Luckily, after a few minutes, another driver accepted our request. It was also a lady driver! There were a lot of lady Grab drivers in Thailand.
The lady driver was not so young; maybe she was in her late 50s or early 60s. Really amazing, right?! She was quite friendly. But the thing is, she doesn't speak English that much. She just said "hello."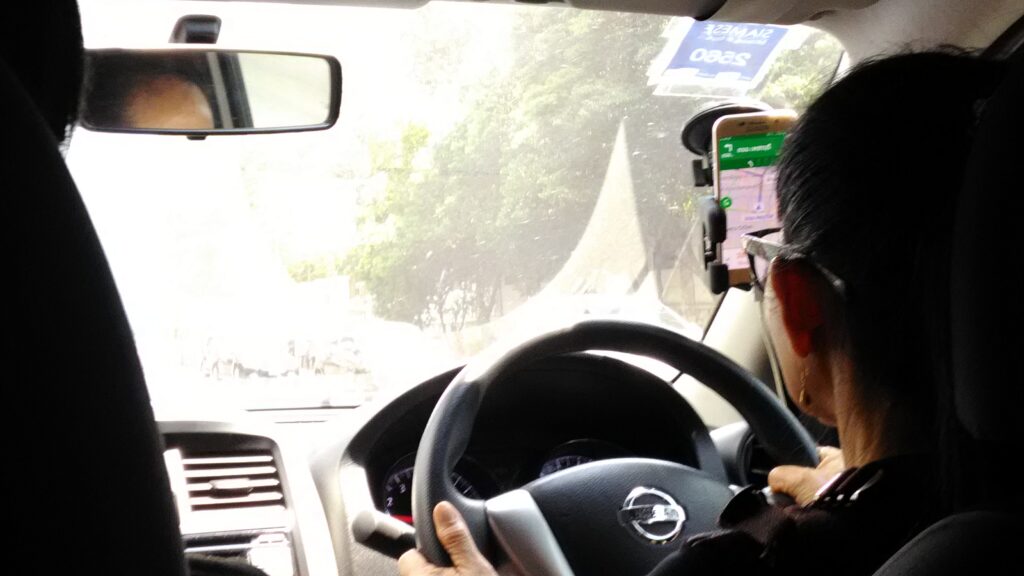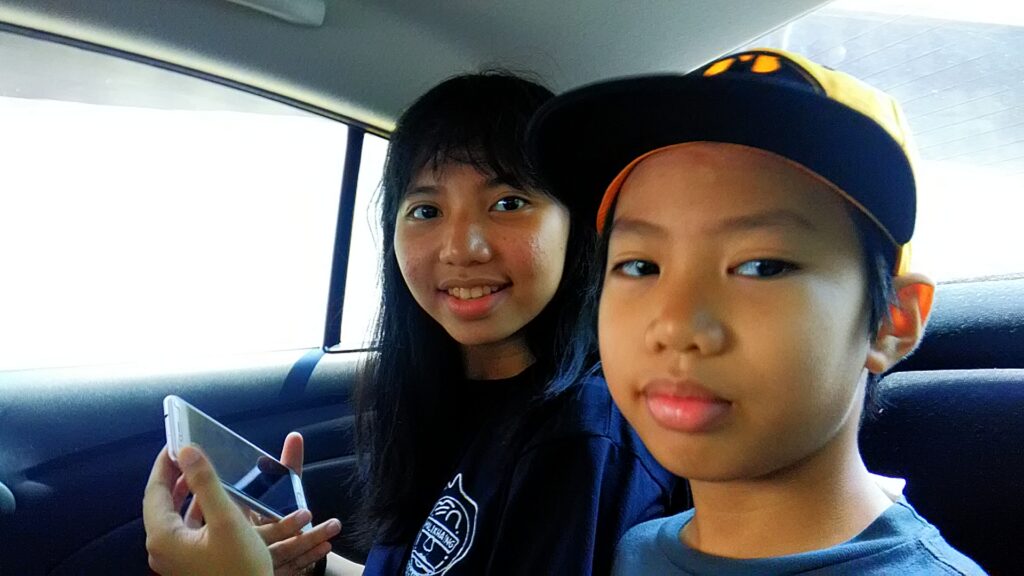 As we spent some time in the car and she asked us where we are headed, we said we're going to Wat Pho. Then she checked her phone. We realized we're headed the wrong way when she stopped the car to check her phone again. She was saying a certain place, and we just answered Wat Pho, the temple of the Reclining Buddha. I turned out there's another place with that name—Wat Pho—and we booked the other one. When we finally understood each other, she asked us if we're willing to pay the first bill for the trip that was done and rebook another one. What are we supposed to do? Do we have a choice? Of course! So, we paid for 2 trips….that was quite sad.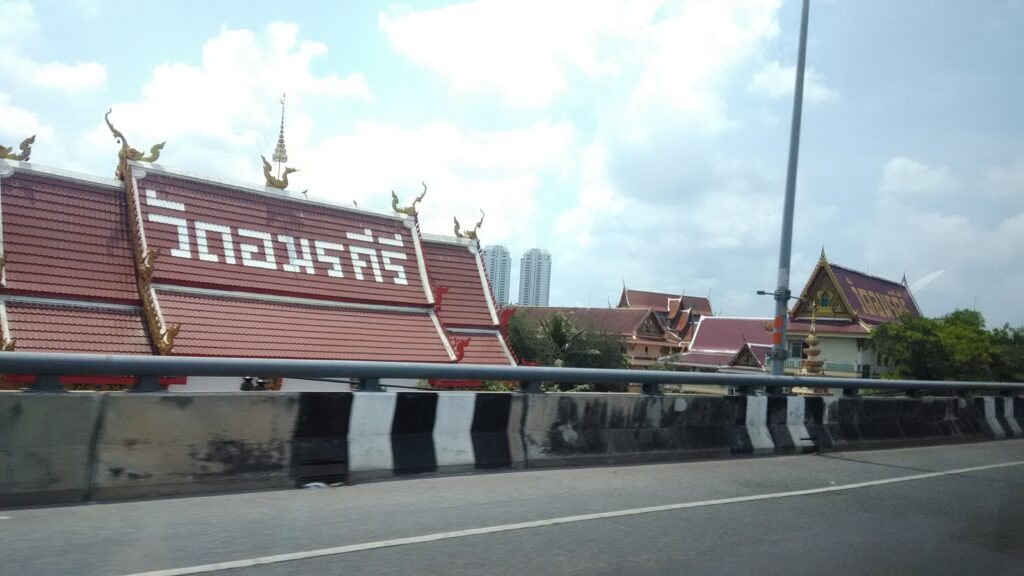 Finally, we arrived at Wat Pho, the temple of the reclining Buddha!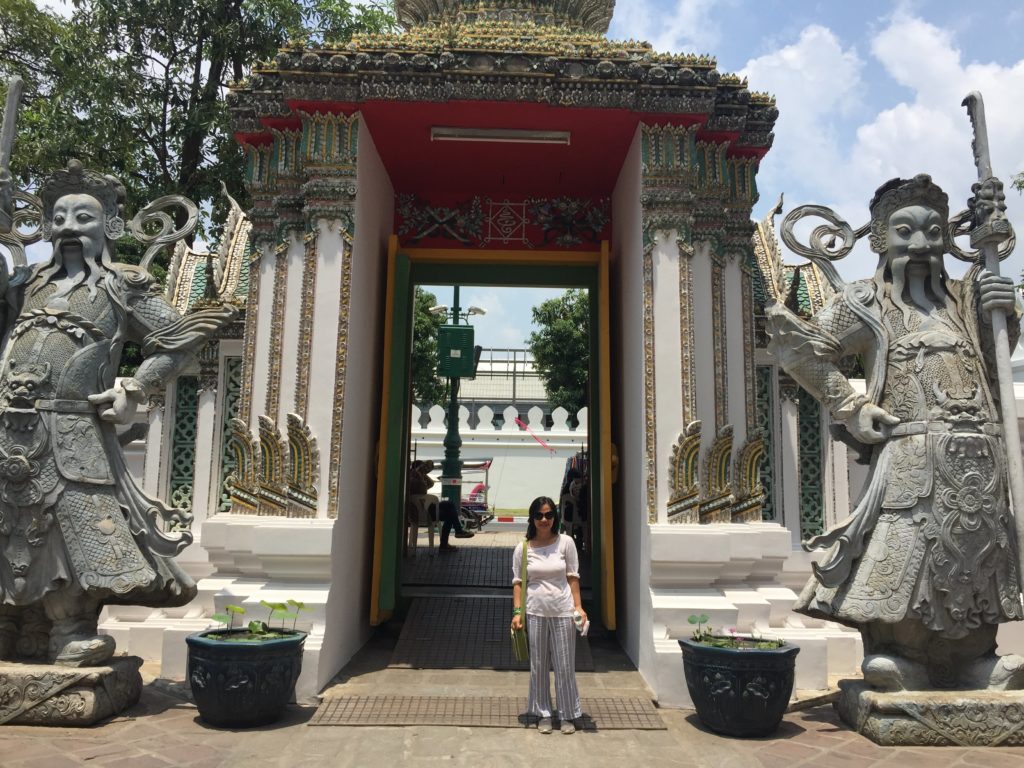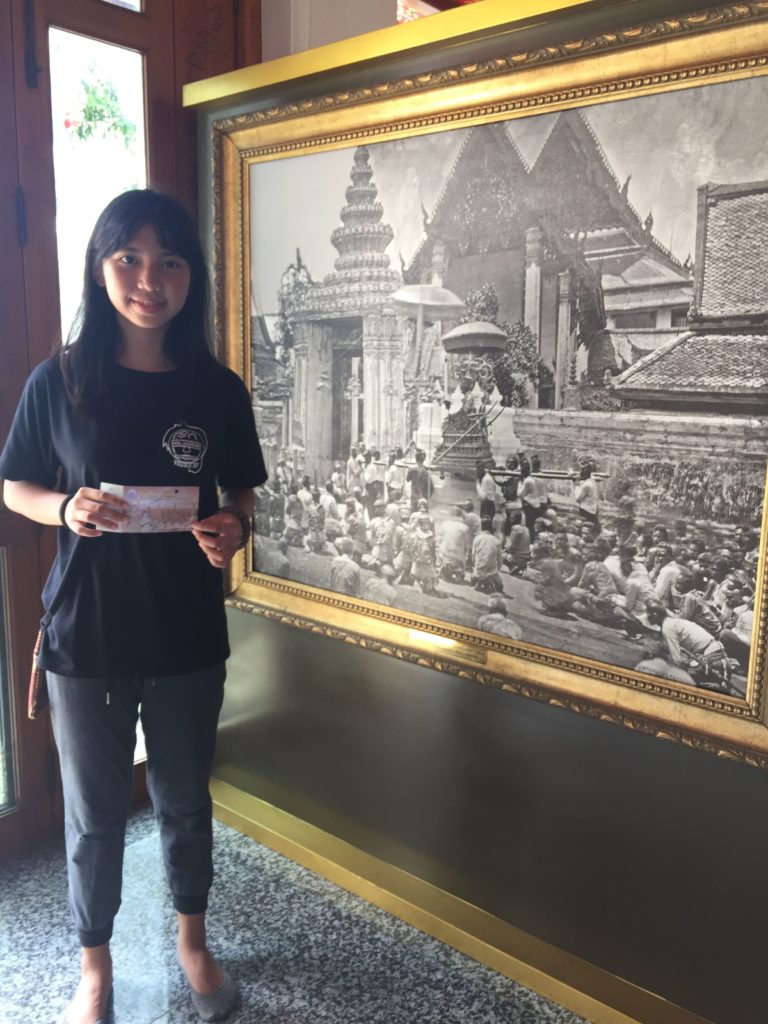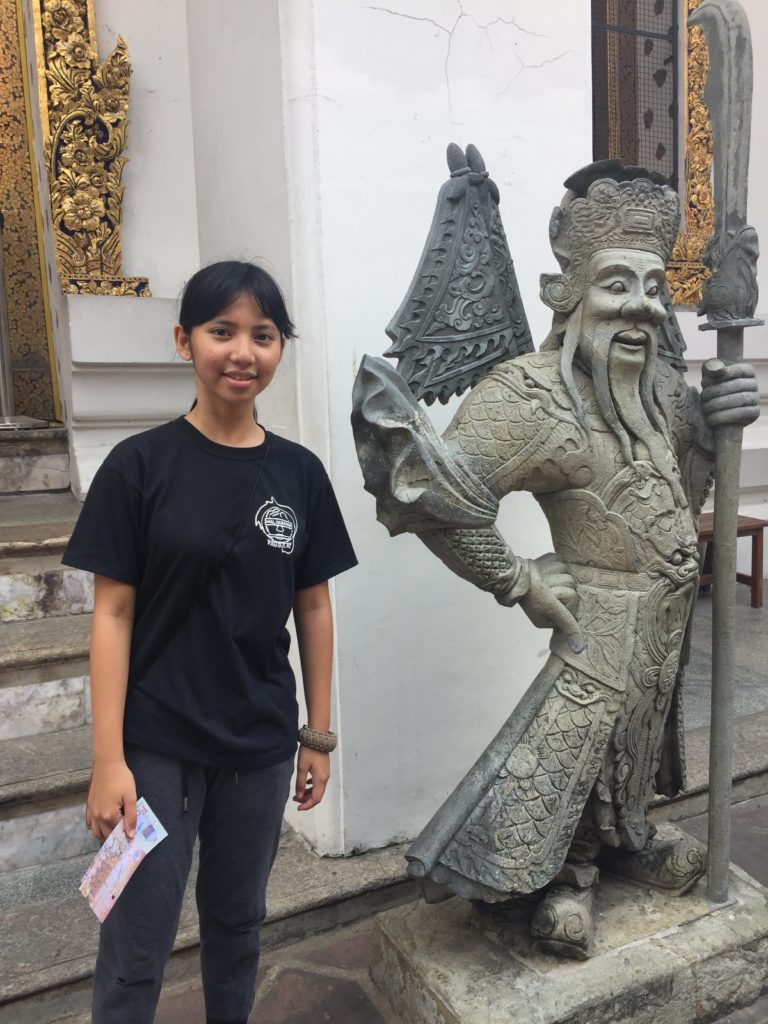 Wat Pho is the home of the 46-m long reclining Buddha, and it is one of the oldest temples in Bangkok. Its original name was "Wat Photaram" or "Podharam"—thus, it's now called Wat Pho. This name refers to the monastery of the Bodhi tree in India where Buddha achieved enlightenment. You will be astonished as you see this very large image of Buddha personally. I sure did! Oh, and just a reminder, you cannot enter the temple wearing mini skirts or shorts. Make sure to wear pants or sarong 🙂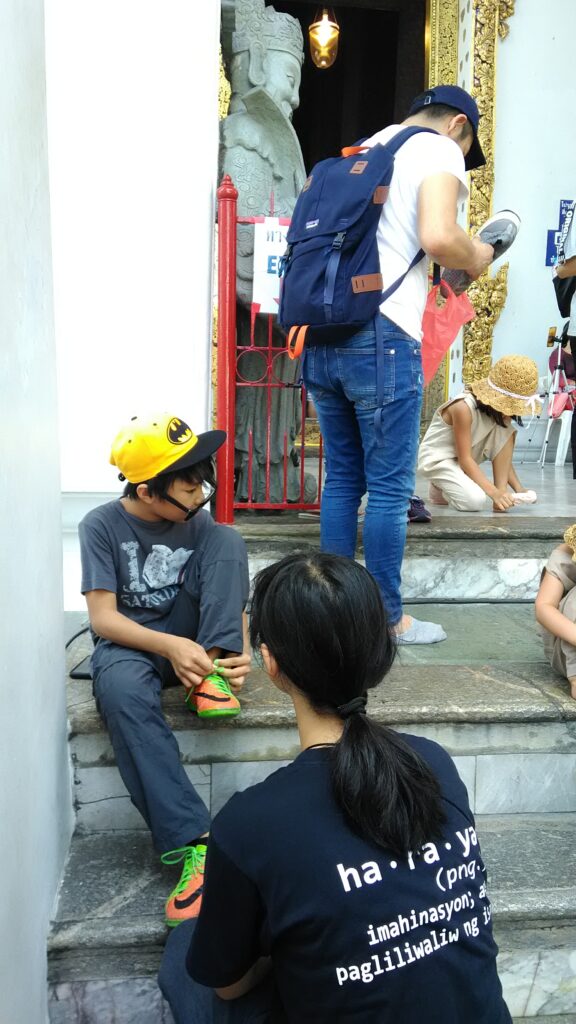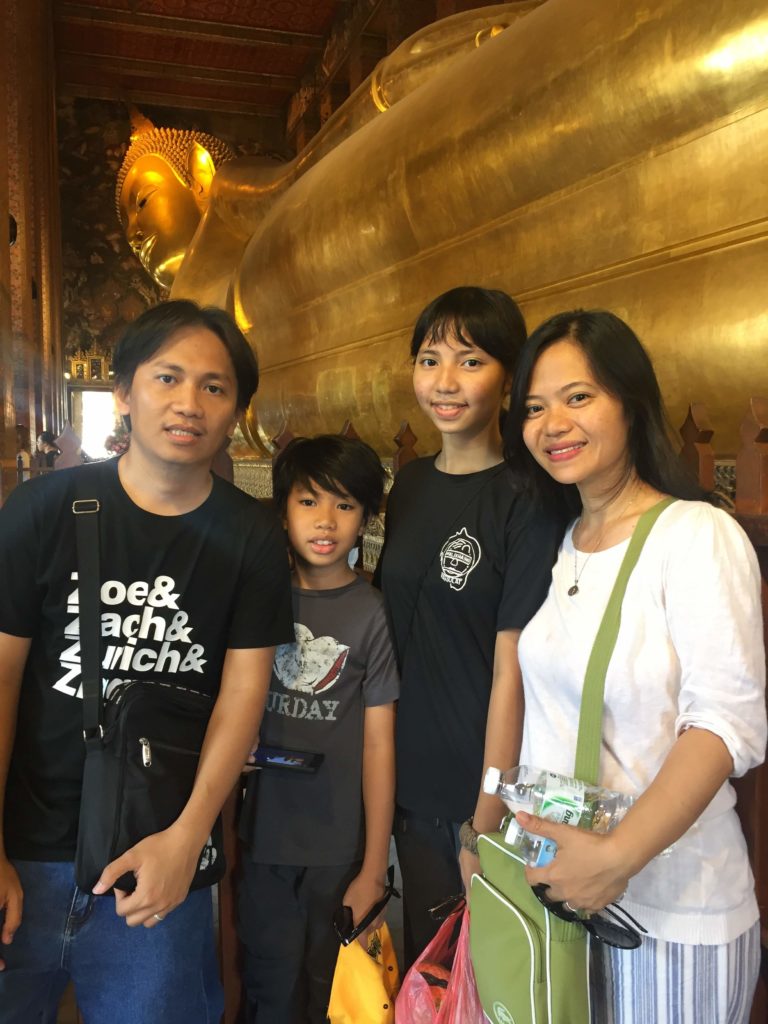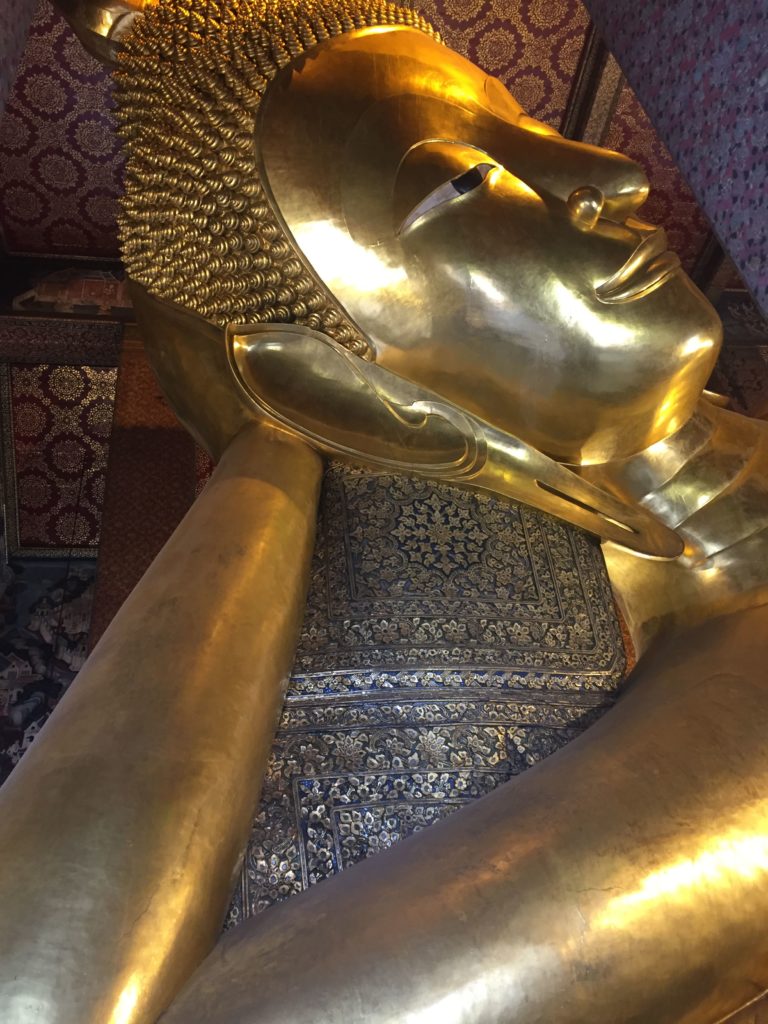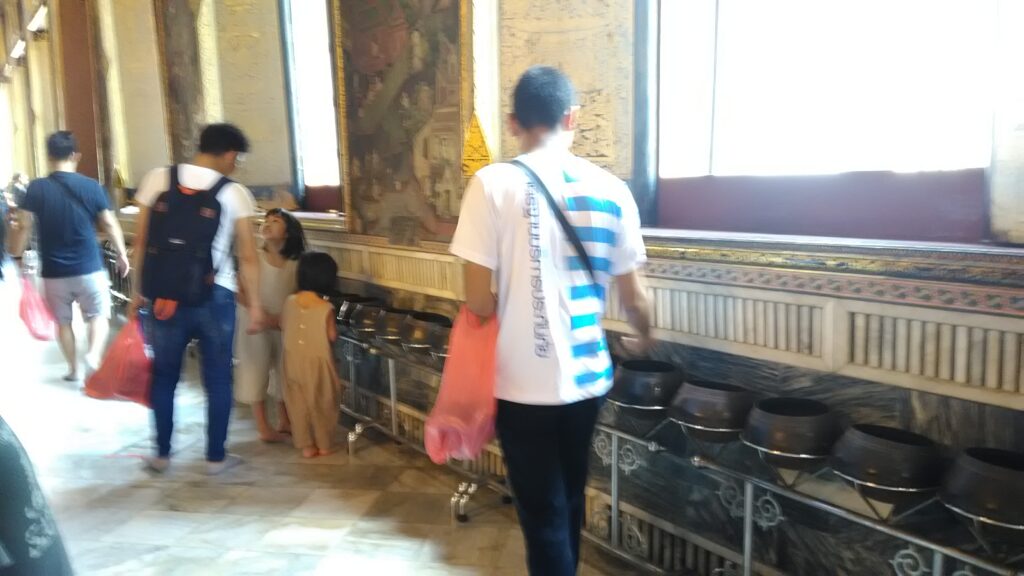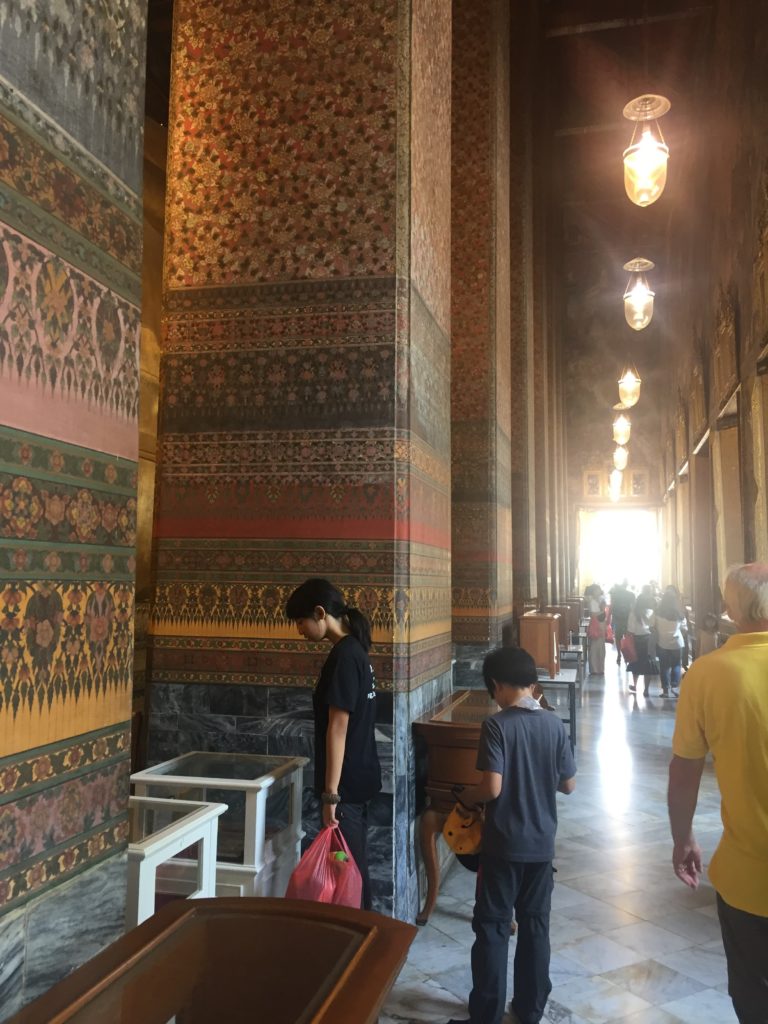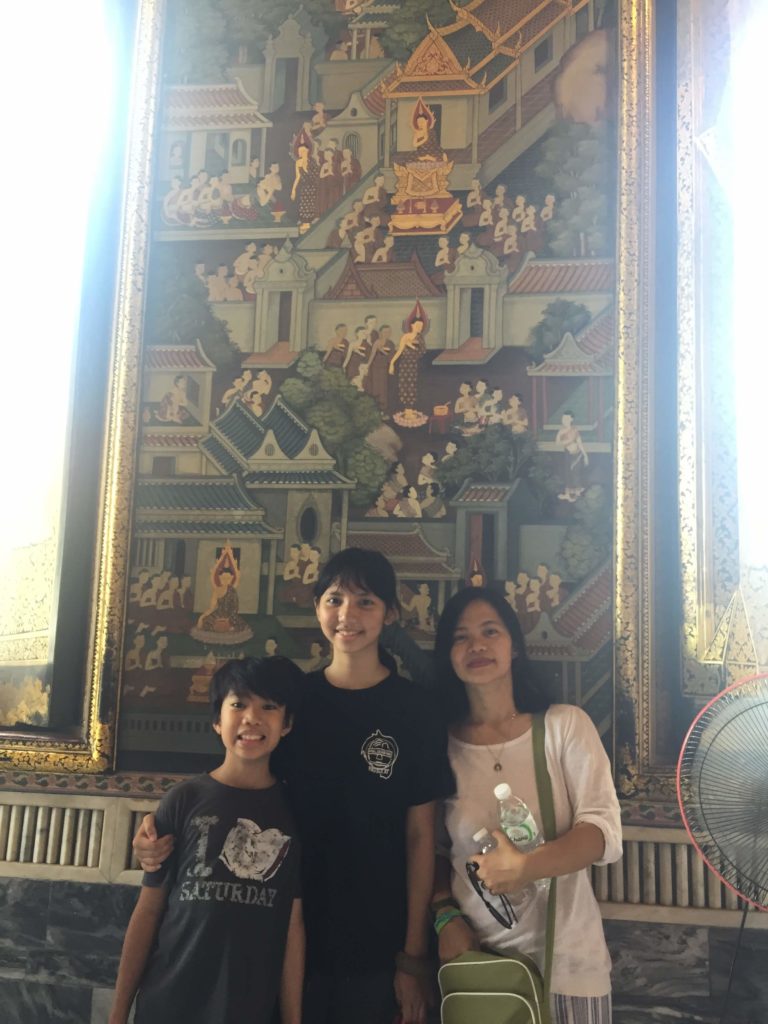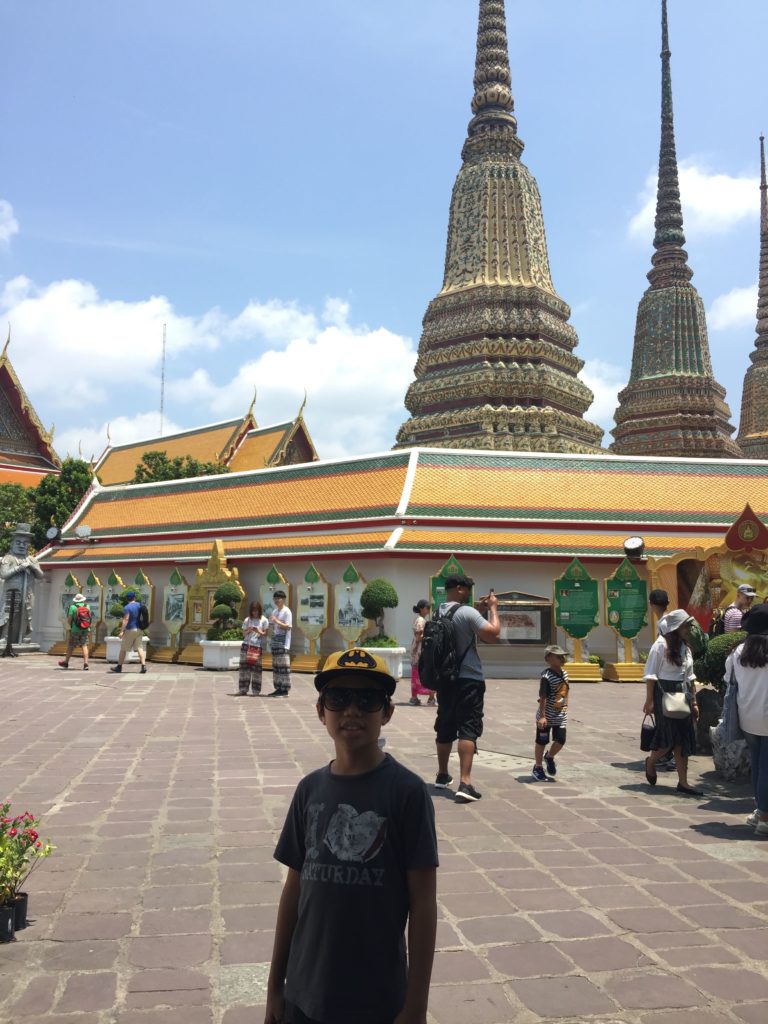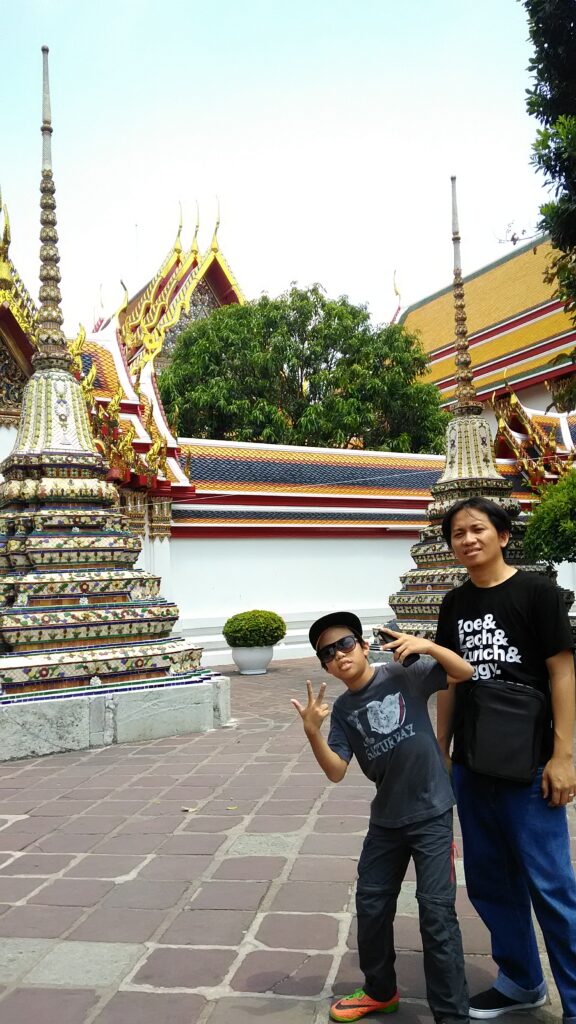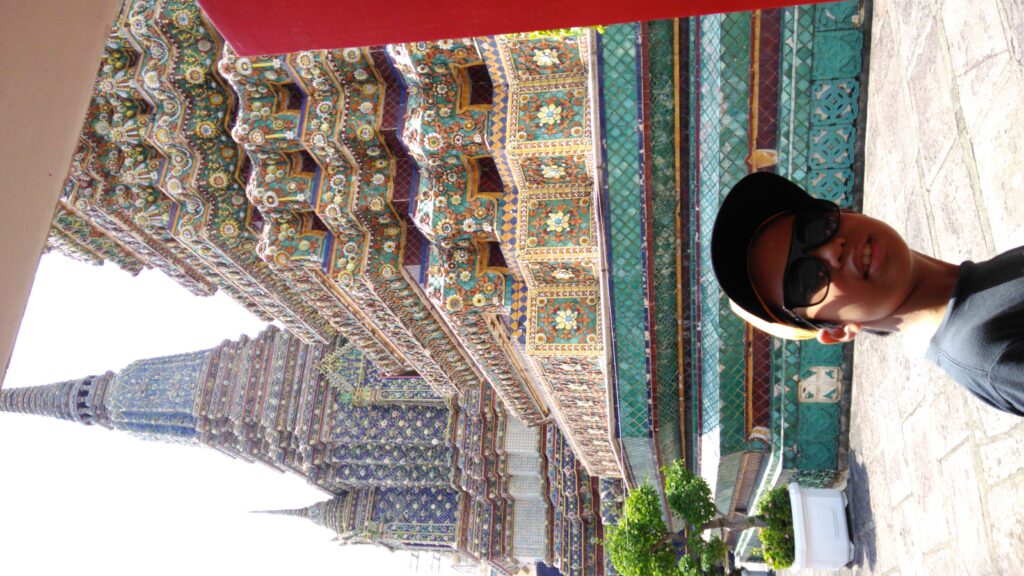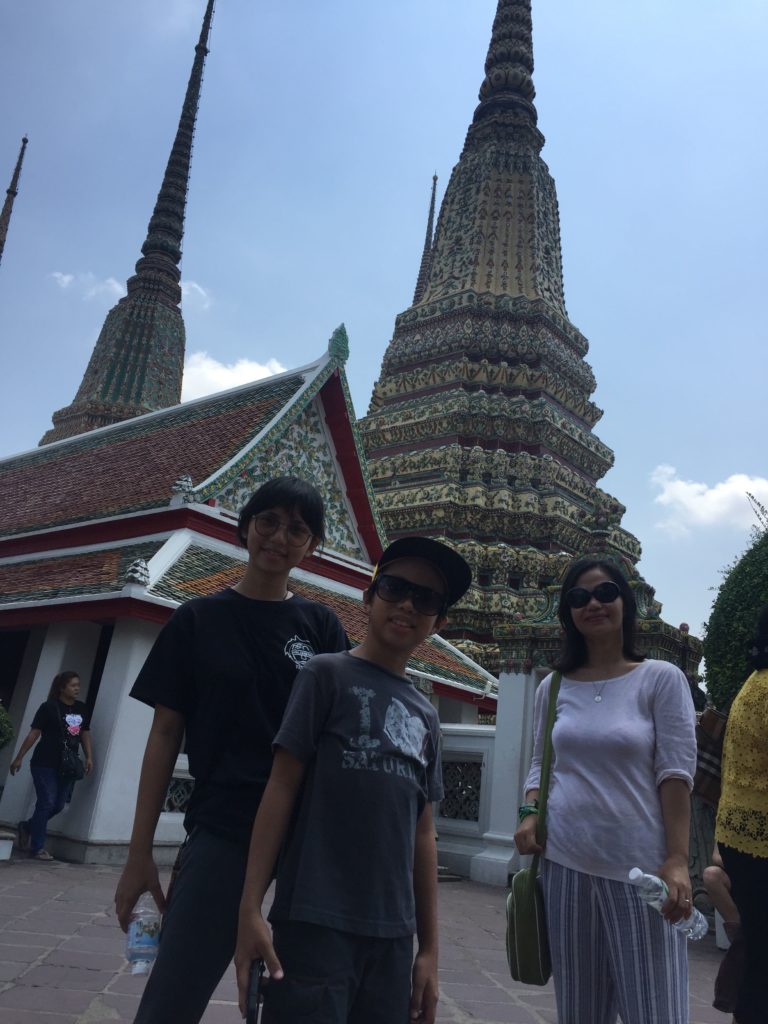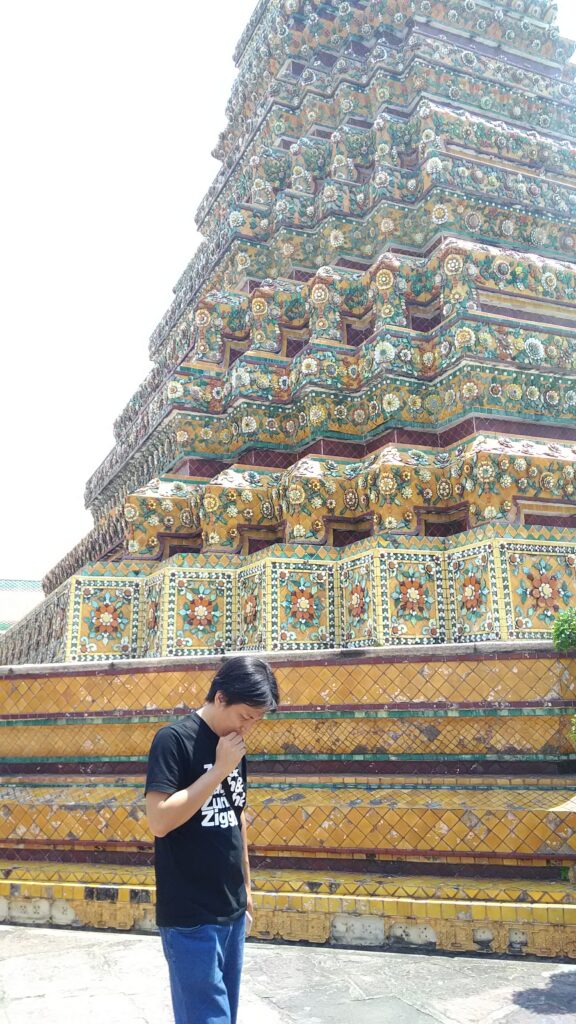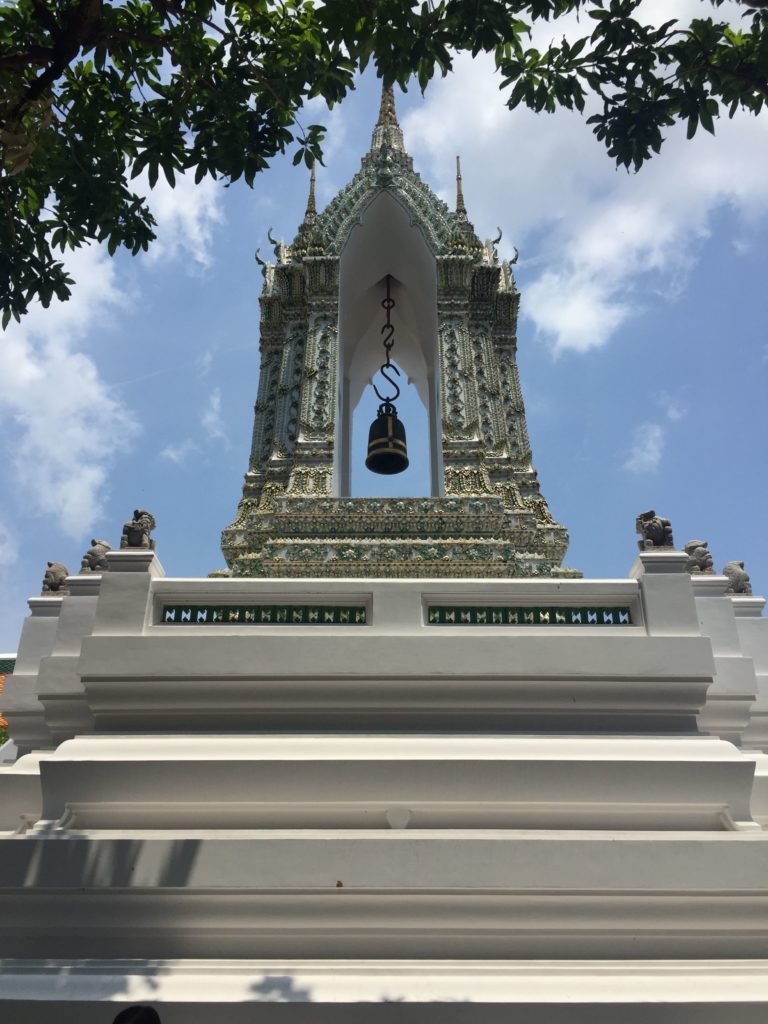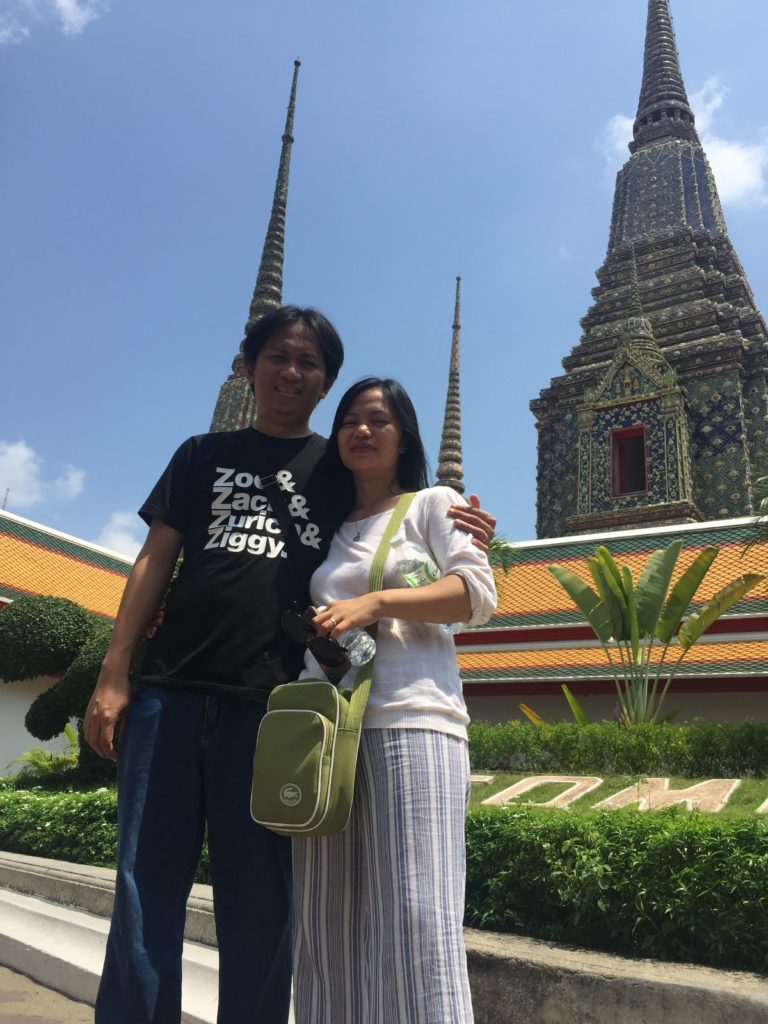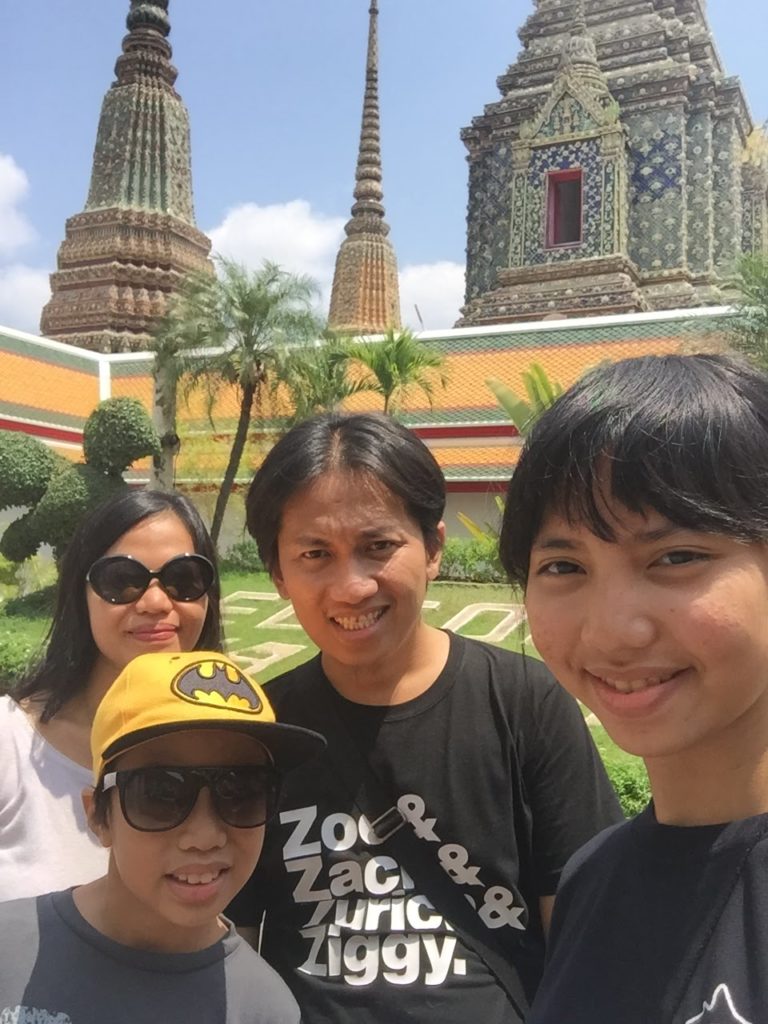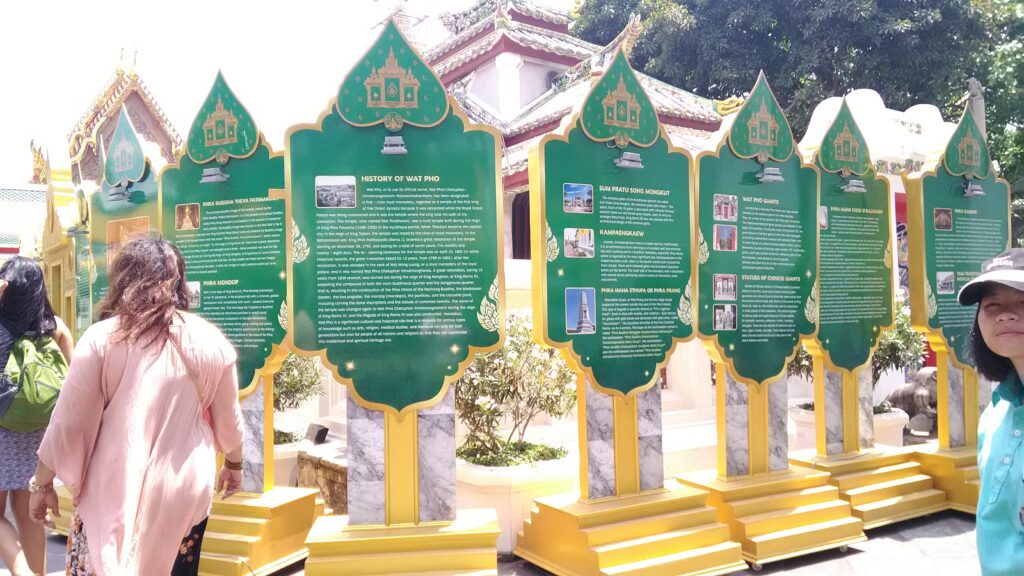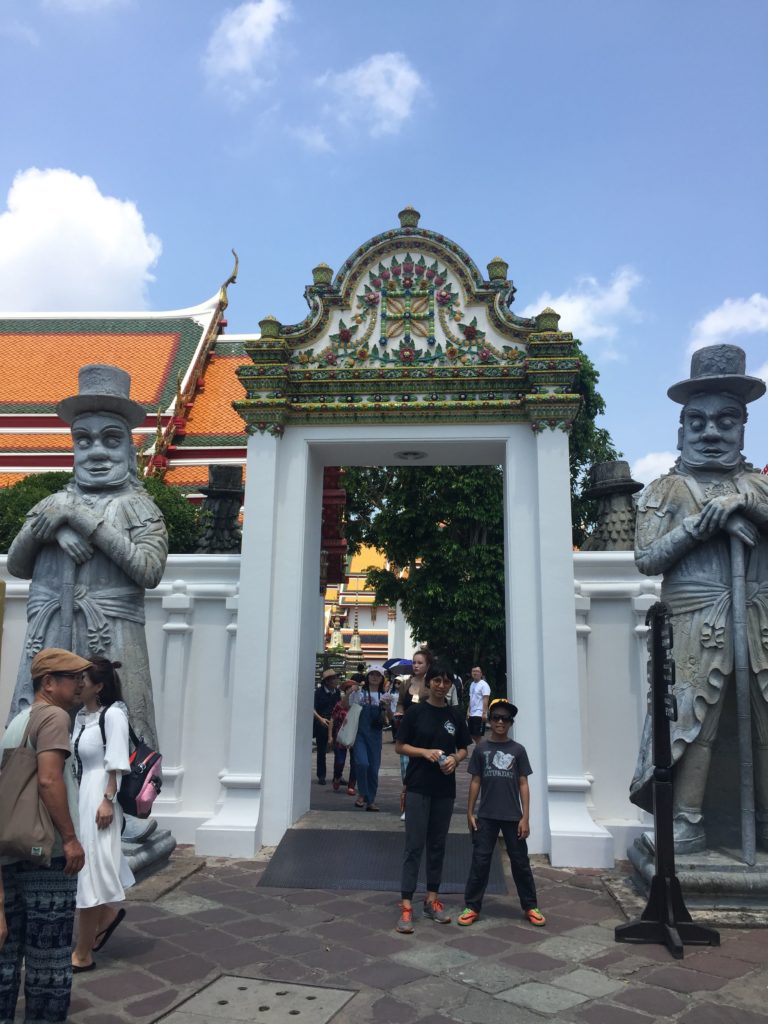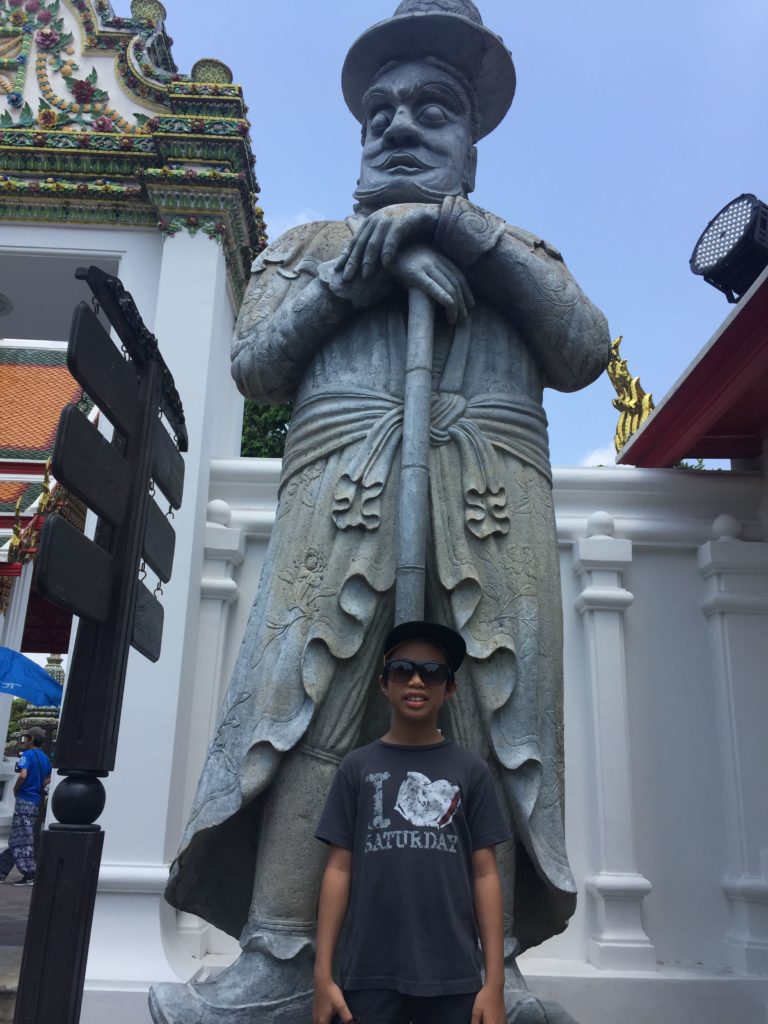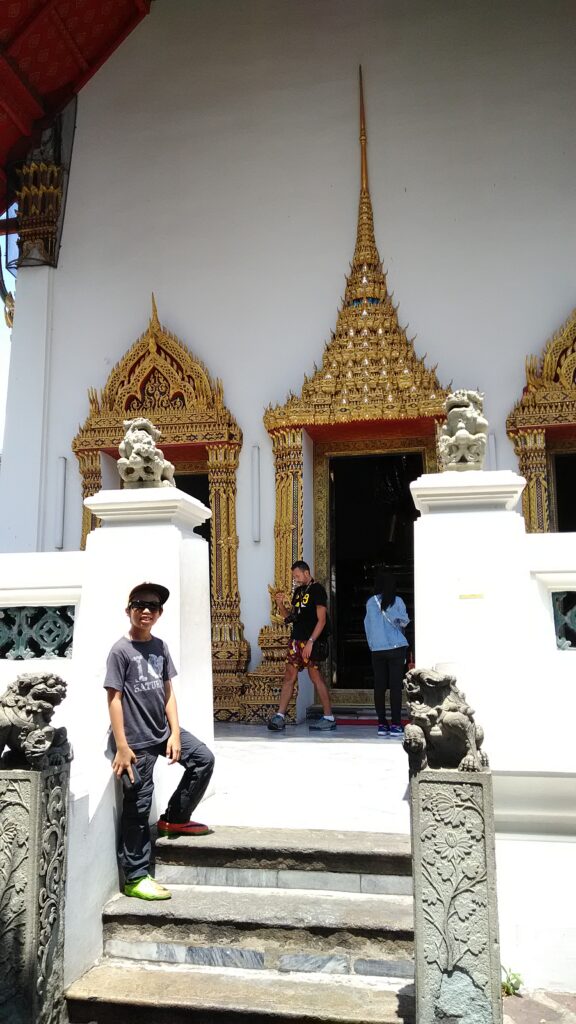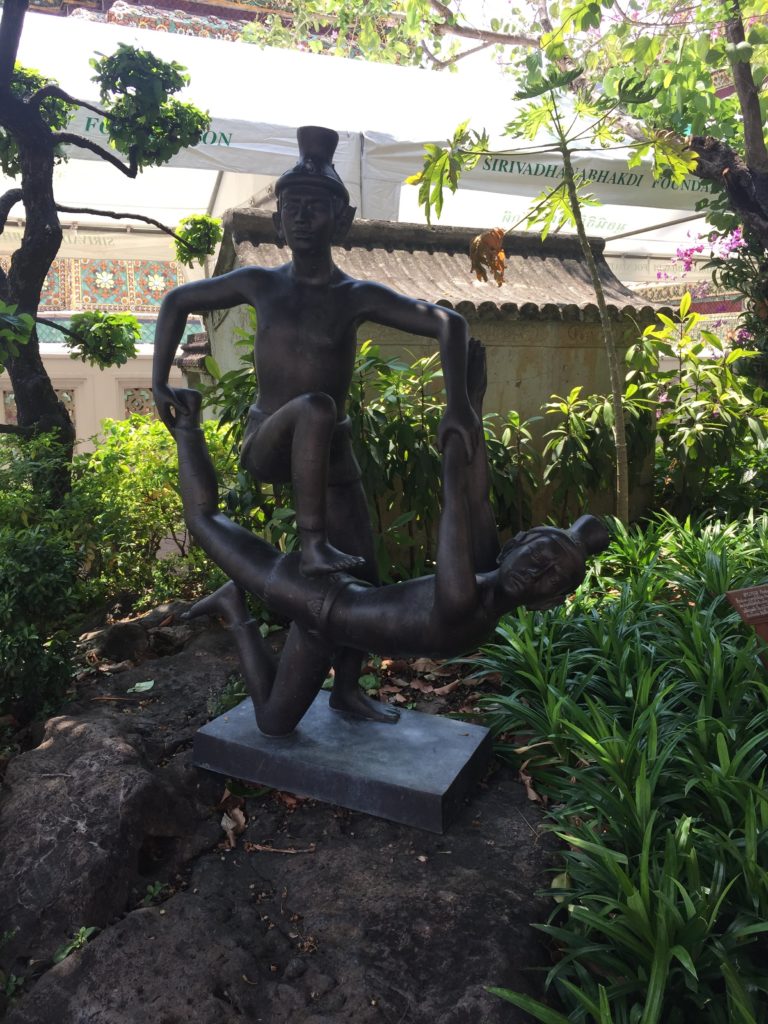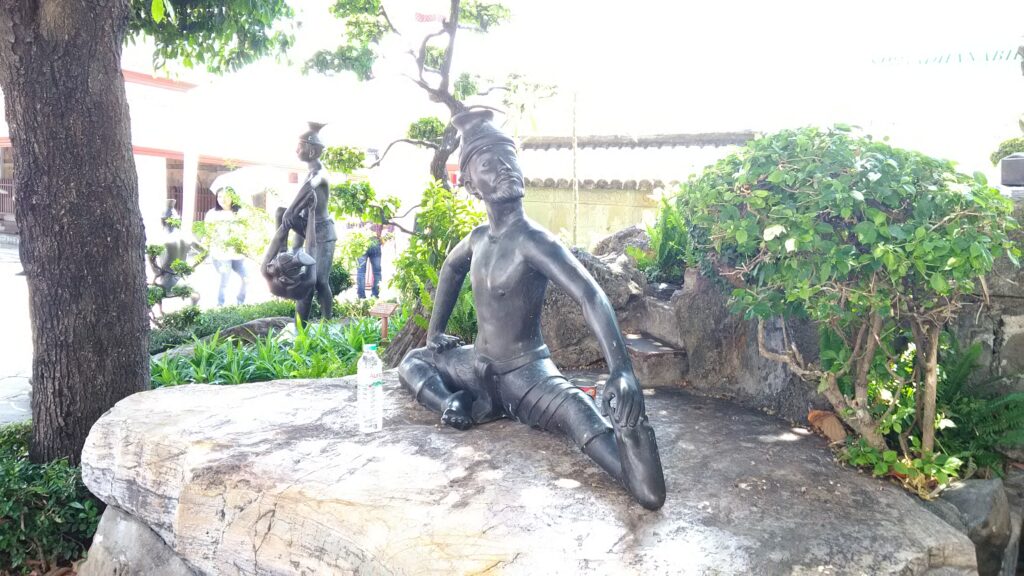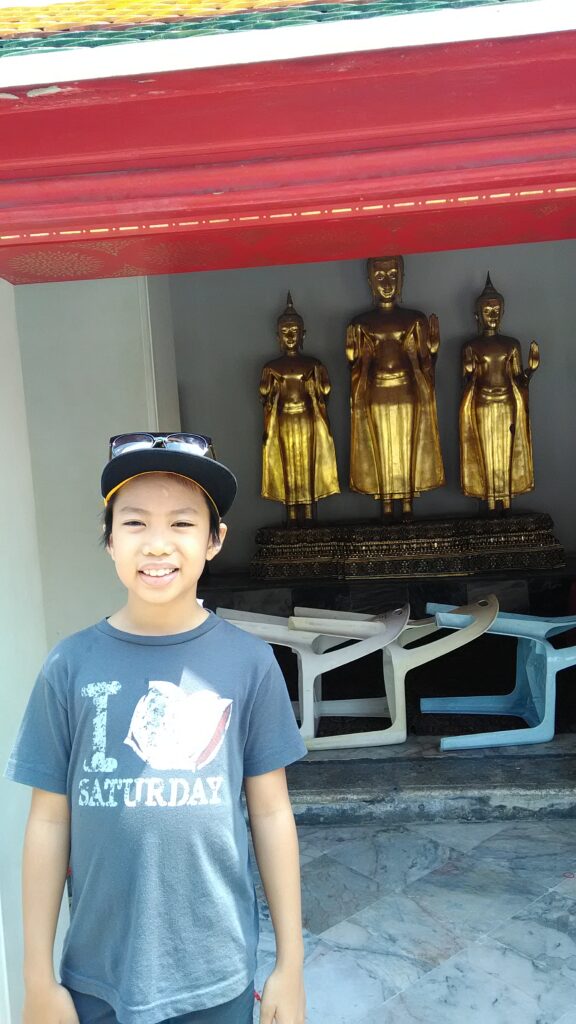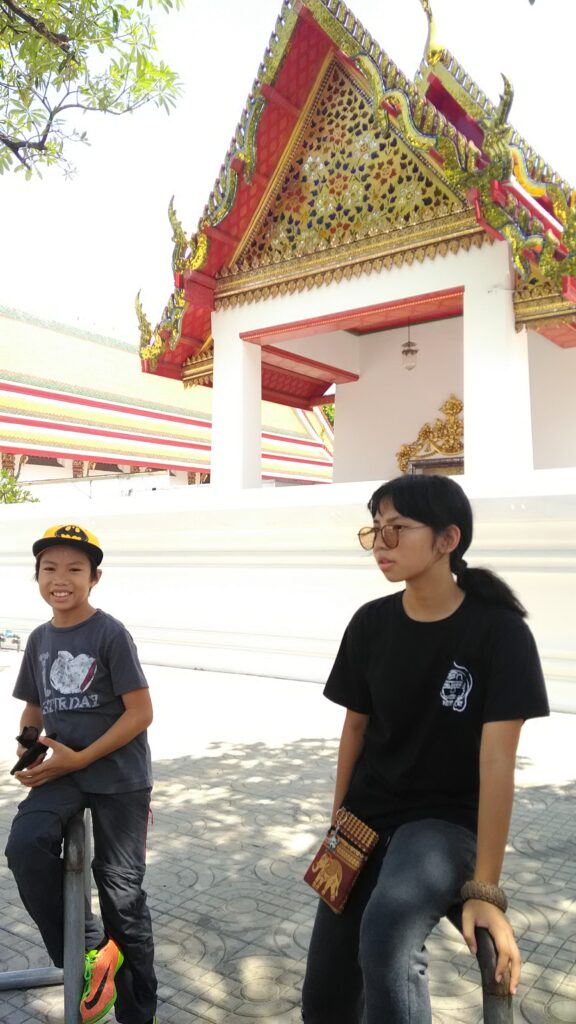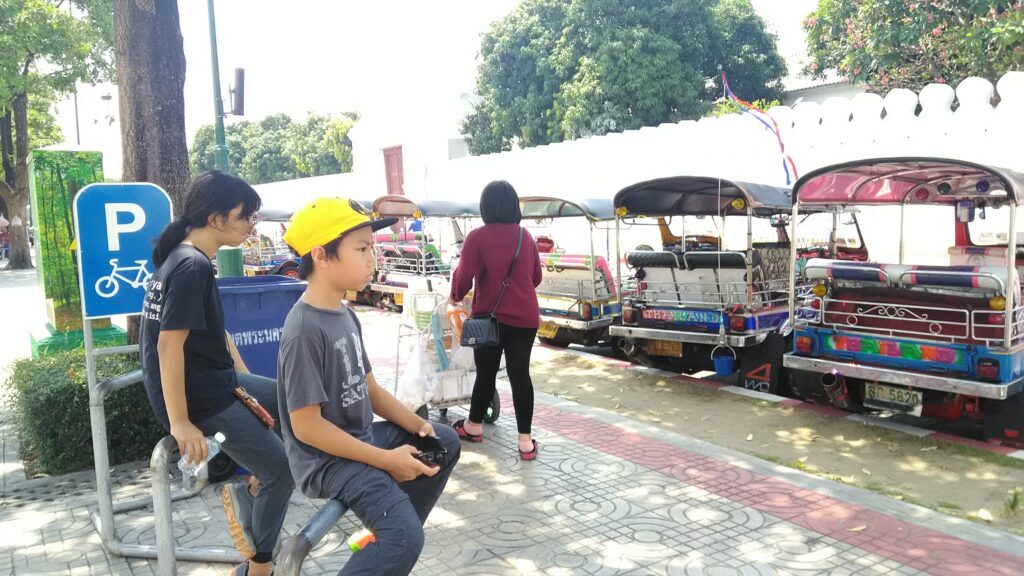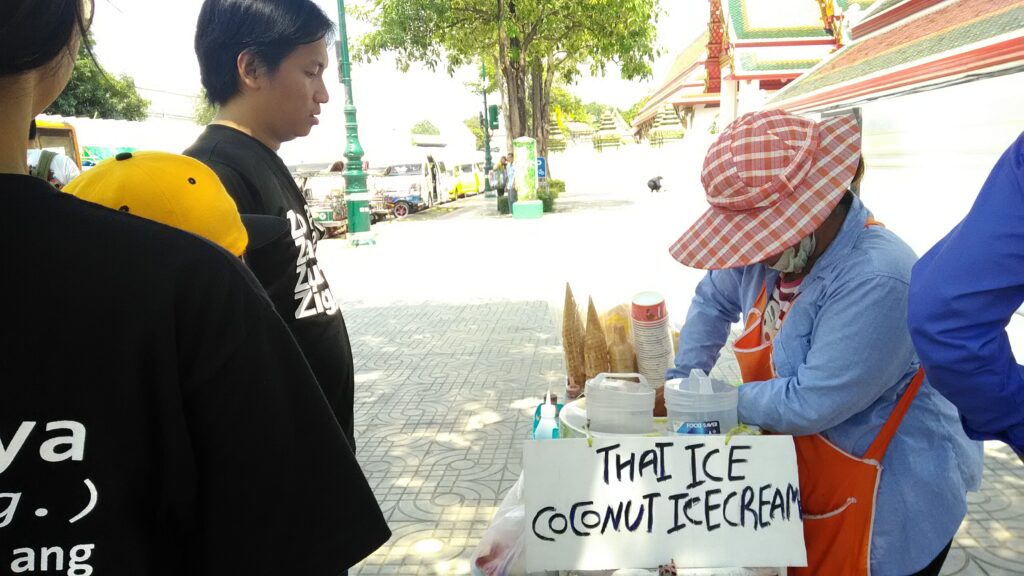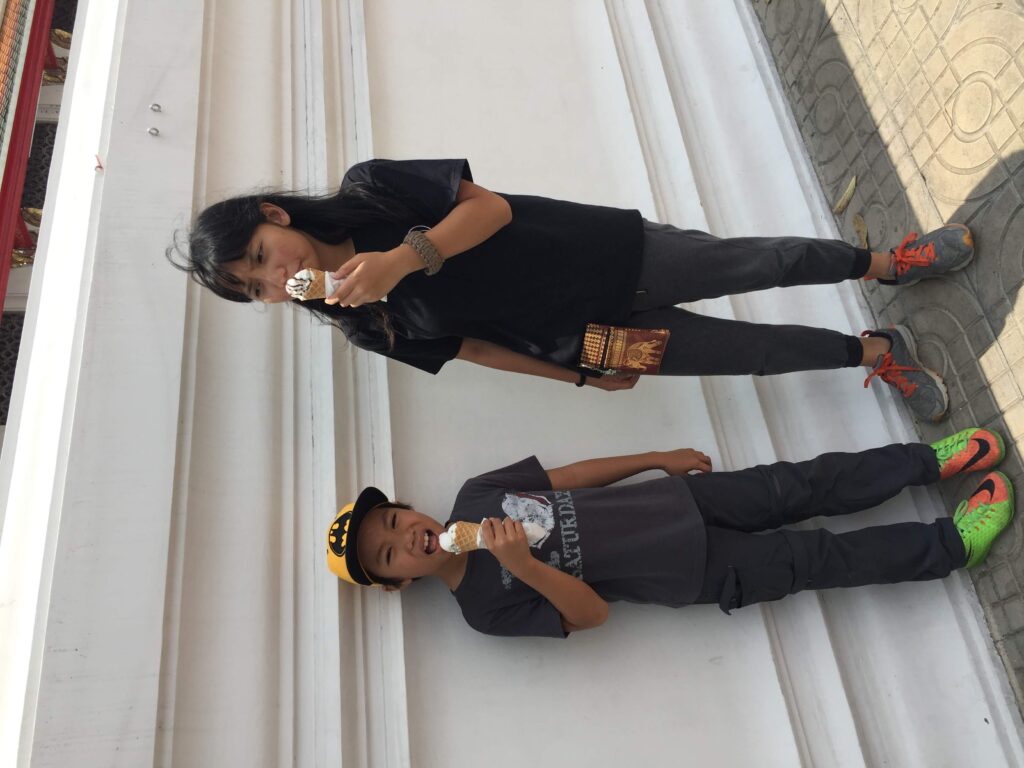 After eating ice cream, we crossed the street to wait for our Grab driver who will bring us to Chatuchak Weekend Market.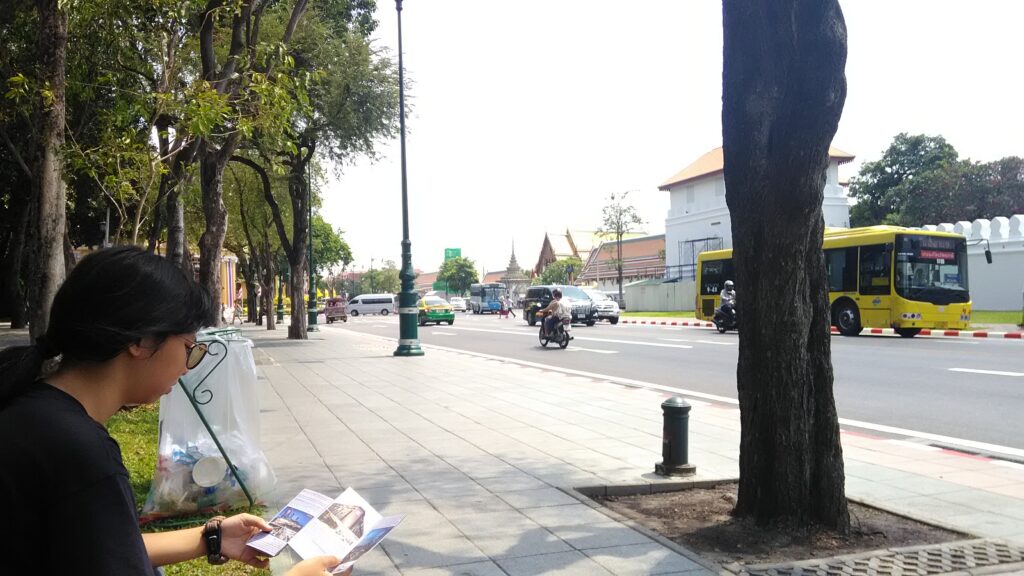 This time, we were satisfied with the driver who accepted our request—-he speaks English better than the first auntie driver 🙂 Also, when he learned that we're not Thai, he changed the music station to one which plays English songs. Cool! It was an SUV so it was more spacious as compared to the mini car driven by auntie driver.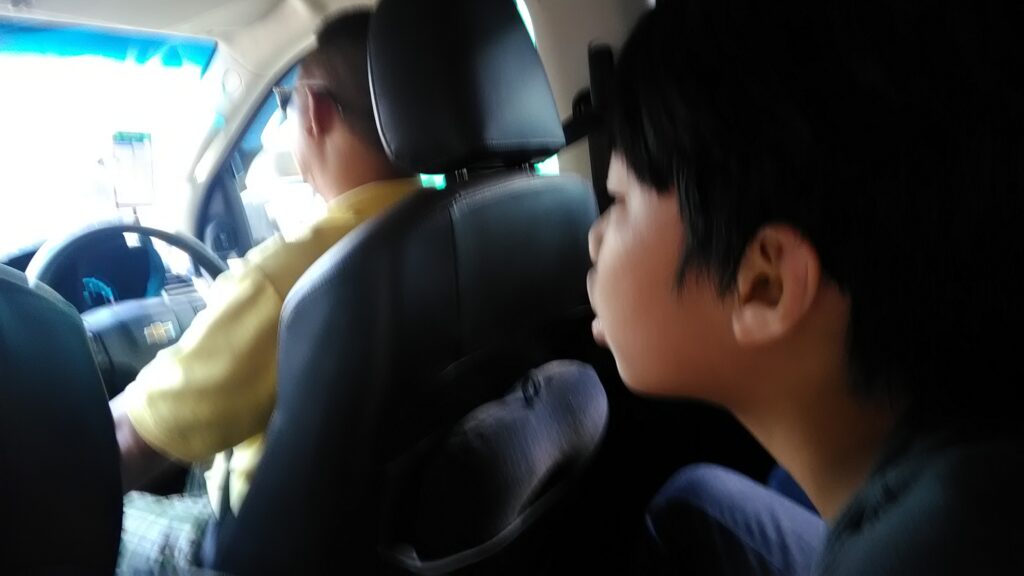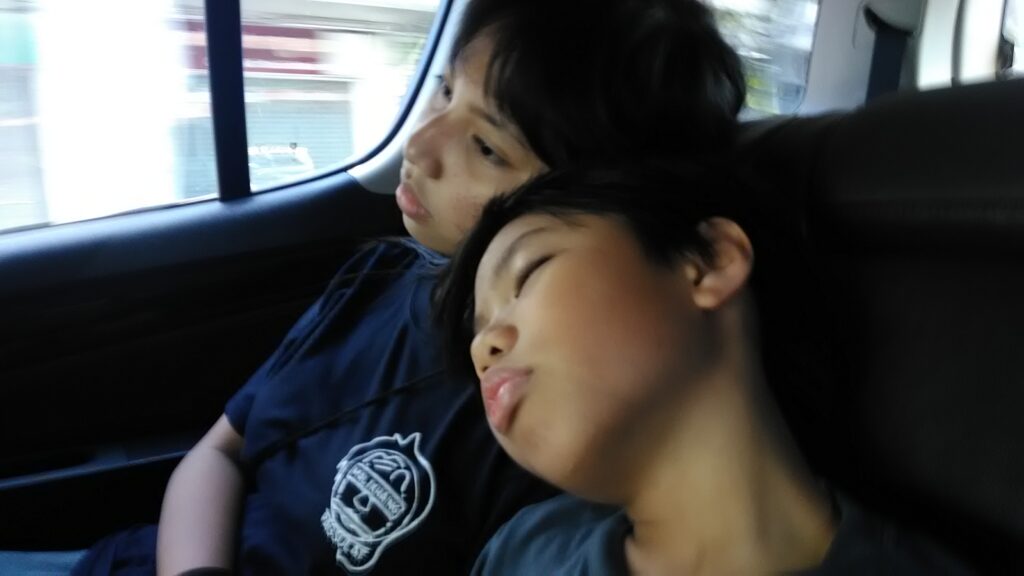 Upon arrival at Chatuchak, we saw this delicious-looking pancake roll with ham and cheese inside. It was only only for 20 Baht!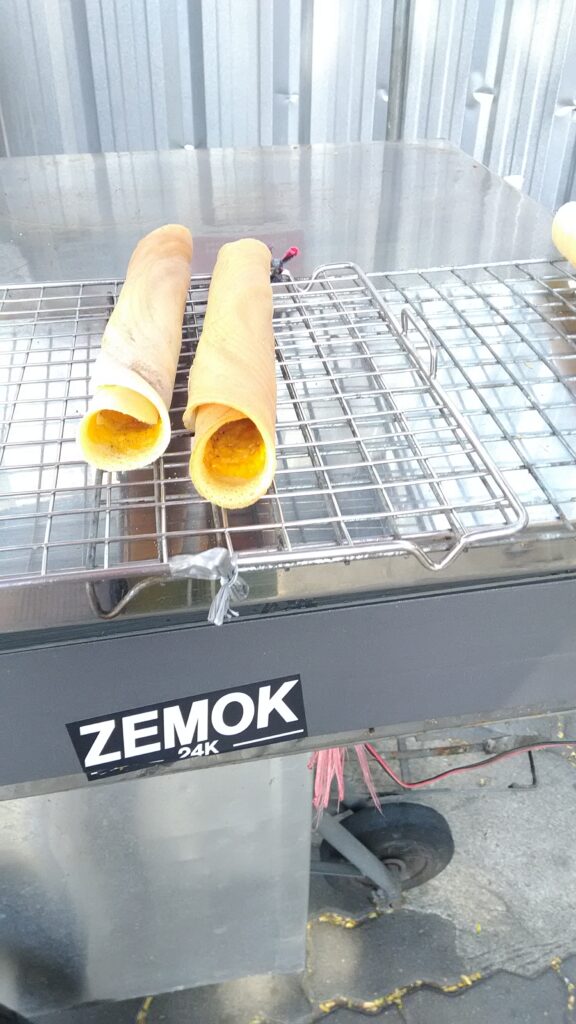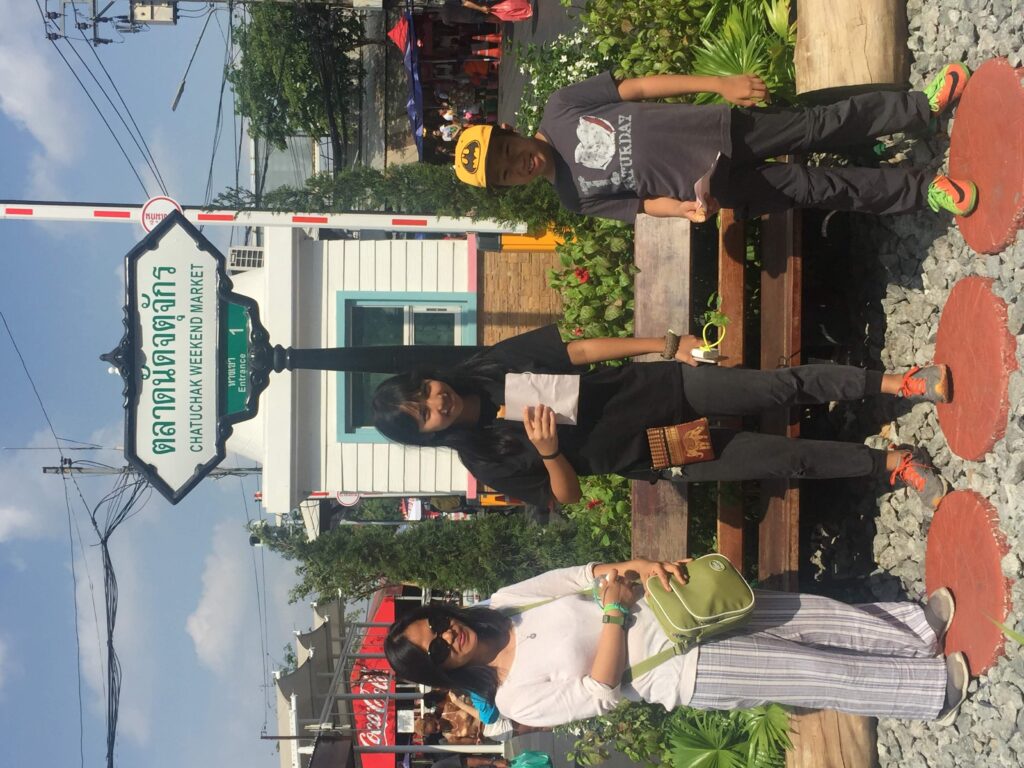 We started walking around the Chatuchak Weekend Market, and I was so amazed with the things they sell there. The clothes were so stylish, with good texture, and they were cheap given their good quality!
There were lots of products to choose from. There were clothing, toys, gardening stuff, and of course—-food! We visited a gardening store first as I was looking for seeds to bring back home. I was searching for lavender seeds or plants, but I found none. I just bought the usual seeds, such as mint, peppermint, sunflower seeds. Then after shopping from the gardening shop, we got hungry and decided to try the noodles in this weekend market. We found this shop which seemed to have a lot of customers. DZ2 and I chose a seafood noodle soup; Hubby chose a pork-based one; DZ1 had chicken-based soup. We really enjoyed our noodles. They were so tasty without the aftertaste of MSG. It tasted like they used authentic spices and herbs to give each noodle's distinct taste.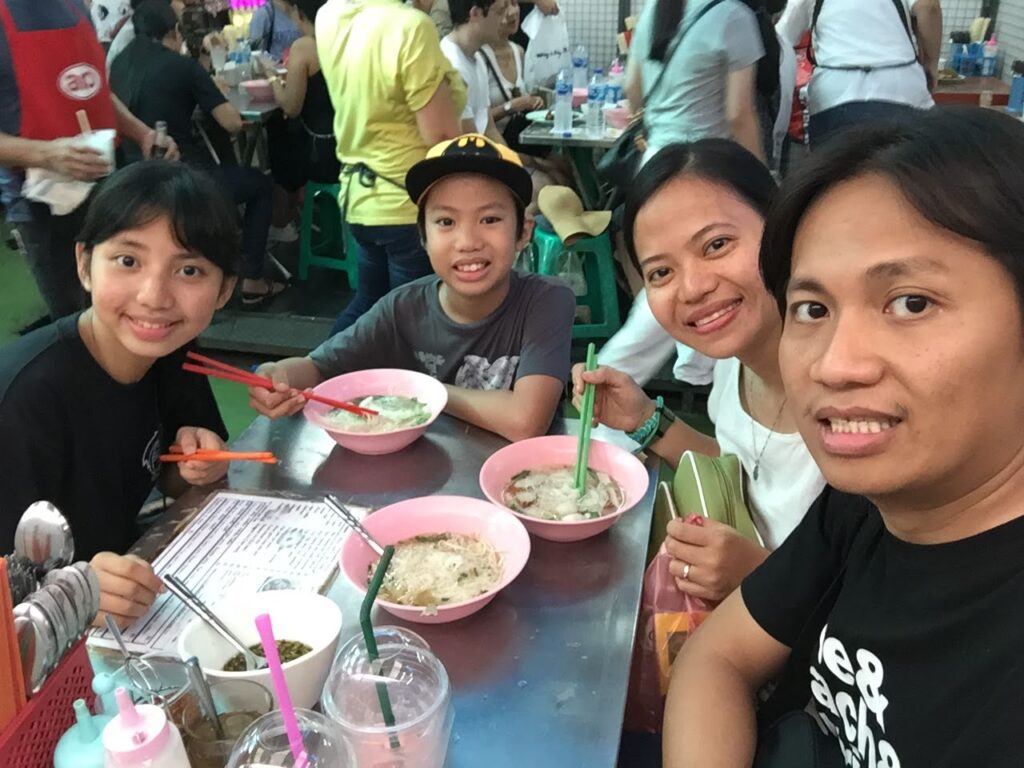 After eating, we decided to walk around some more. DZ1 bought two rings, one for each of us. We bought some pasalubong for our relatives and friends. I also bought an artsy pencil-cut skirt. There were so many clothes that I wanted to buy….but I didn't as I was trying to be a minimalist. I didn't want to bring home so much stuff only to be conflicted by which one I should give away or remove from my closet. So we just walked around and looked at all those good stuff—-window shopping at its best 🙂
Finally, we all wanted to go back to Lub-d to get some rest. We got tired from all those walking, and it was quite hot. It was just like we're in Divisoria, but spaces were wider and no jeepneys and other vehicles were passing by while you're shopping. We used Google maps to find the train station.
We took some photos outside Siam Square when we got out of the train as the station exit was near that mall. We didn't go in yet as we were so eager to lie down and have some rest first.
We went back to Lub-D and rested for an hour. Then we ate dinner at the nearest local restaurant. It can be compared to our "carinderia" in the Philippines. Most of us ate rice and spicy seafood and chicken. DZ1 ordered a Tom Yum Soup, but it so happened she didn't like it very much. I think liking that soup would require an acquired taste.
We went back to Lub-D after dinner and rested some more. The almost-whole-day tour really used up our energy. After resting, Hubby asked me to come with him to this local bar which sells craft beer. He said it's close to Lub-D. He was correct—it was close to Lub-D. But there was a scary and challenging path that we took when we followed the directions in Google maps. It required us to walk in the narrow sidewalk of the main road! There were literally fast cars moving while we're walking in that narrow sidewalk and it was a little uphill! I wasn't able to take some photos as I needed to concentrate in walking.
Finally, we saw the neon lights from the bar which says "cold craft beer."
The official name of the bar is "FEAT LAB," and it's just a small place, which has 4 or 5 mini tables for customers. Hubby was so happy when we found it and ordered as soon as we entered the shop.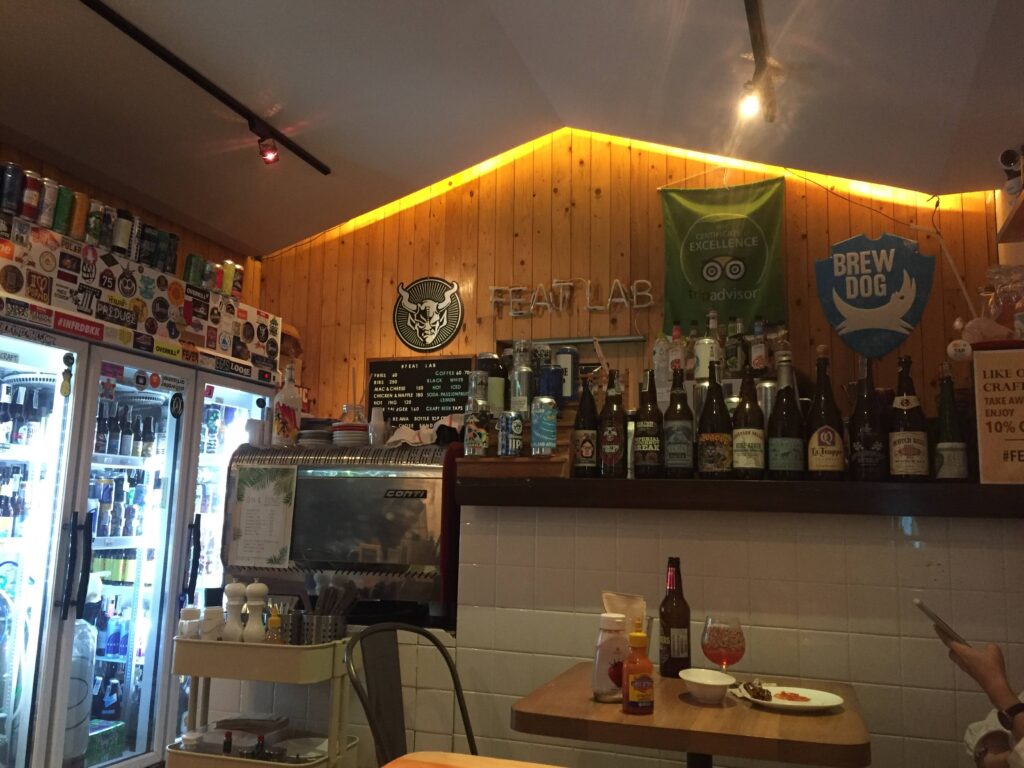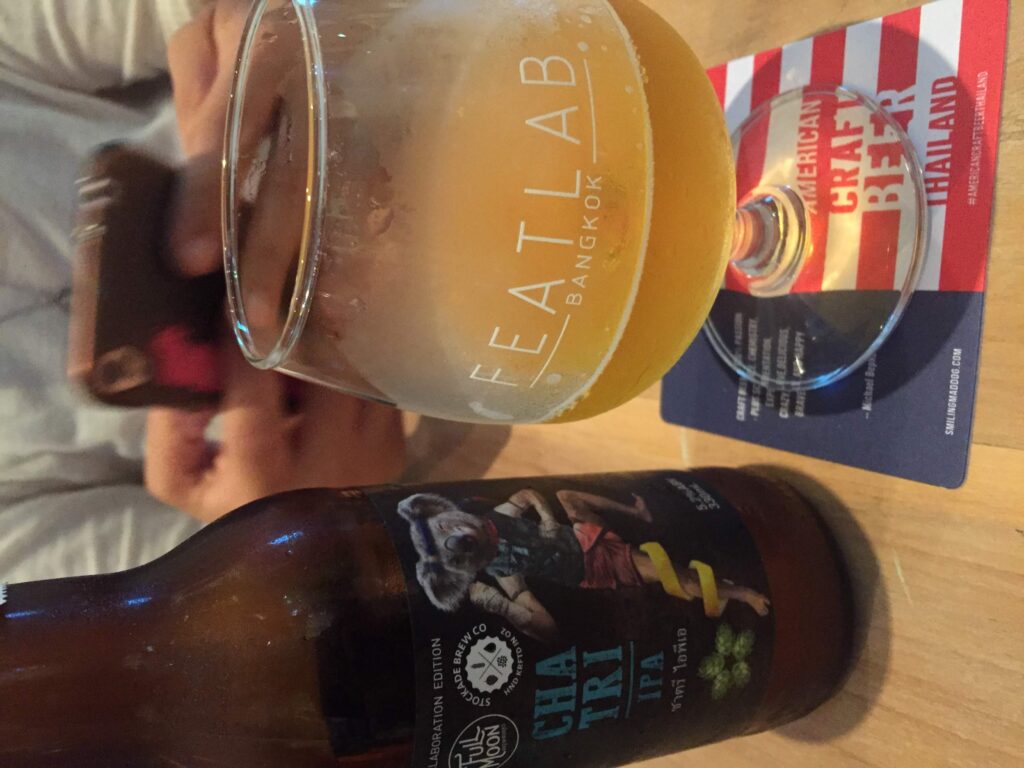 After finishing his first bottle labeled "CHA TRI IPA," he ordered another one and another one after that.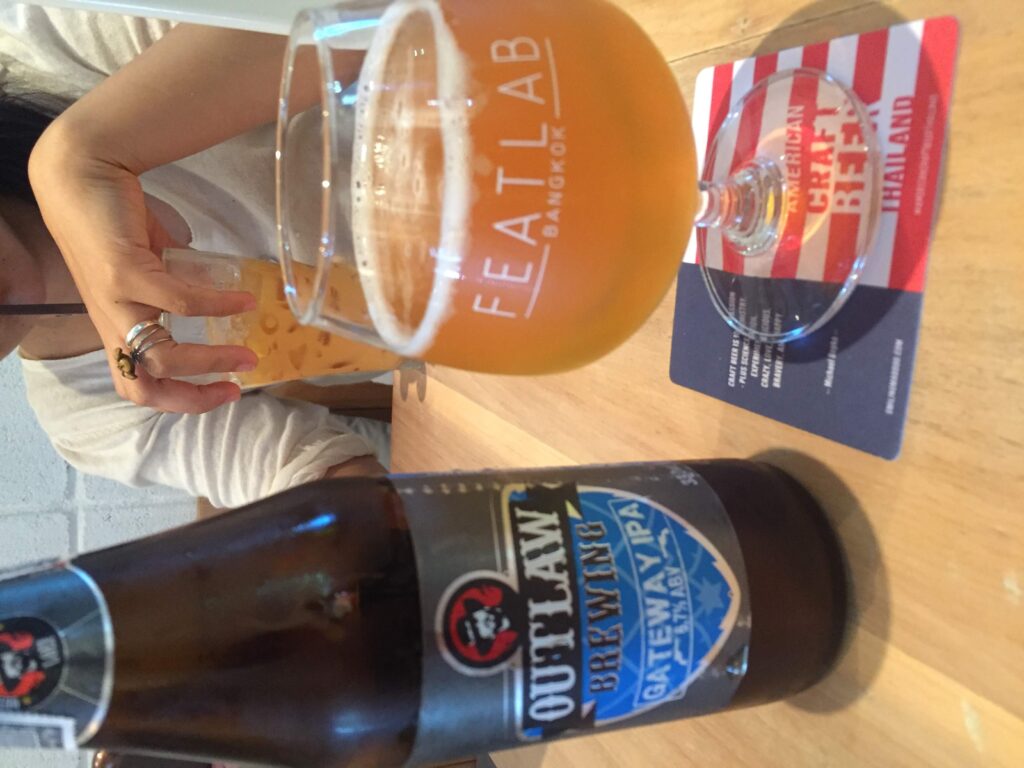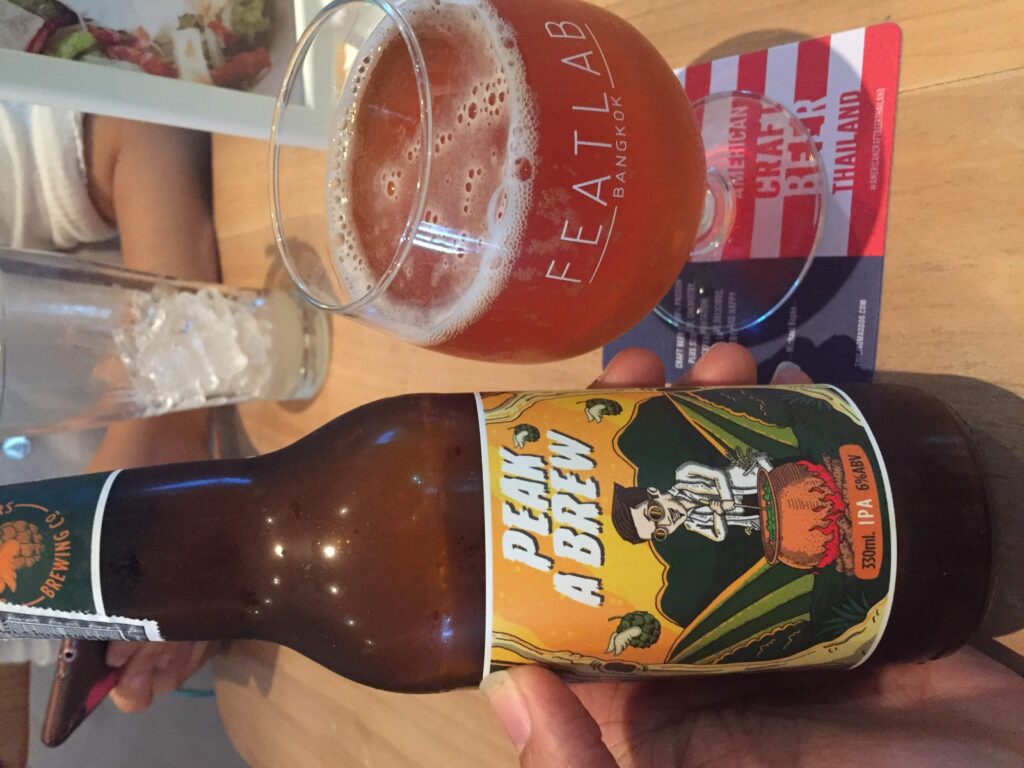 While he was enjoying his beer, I was also enjoying my Thai milk tea. It was much better than the 20-Baht Thai milk tea which we bought that morning in the mini marketplace. Well, it should be as the price was much higher.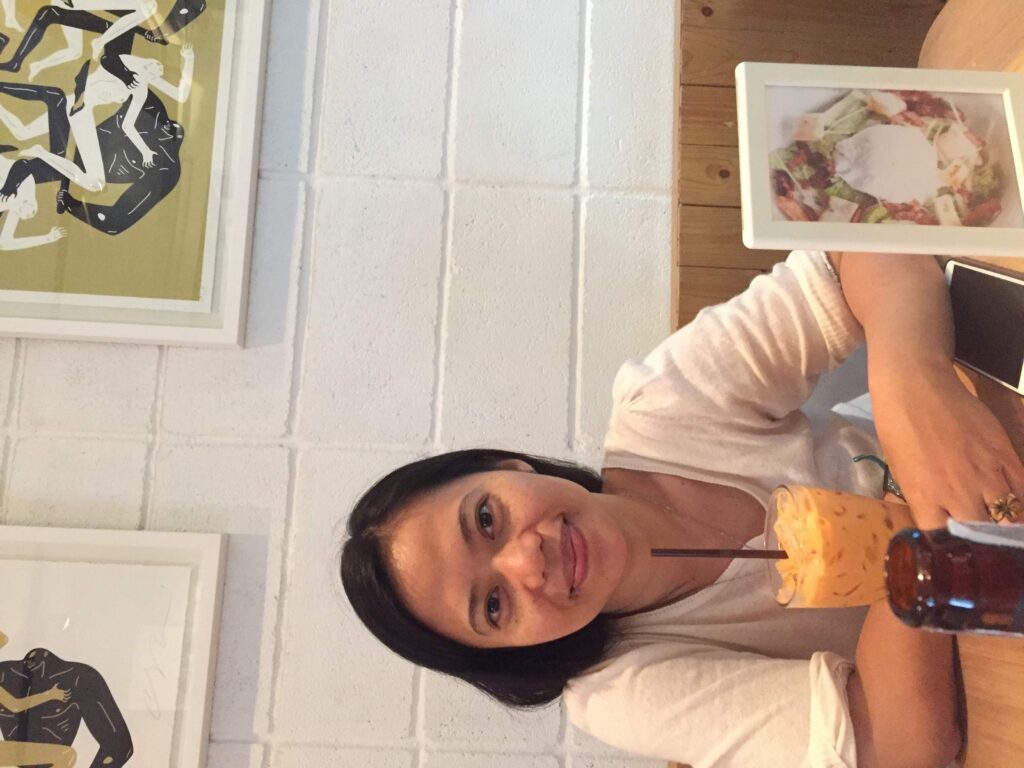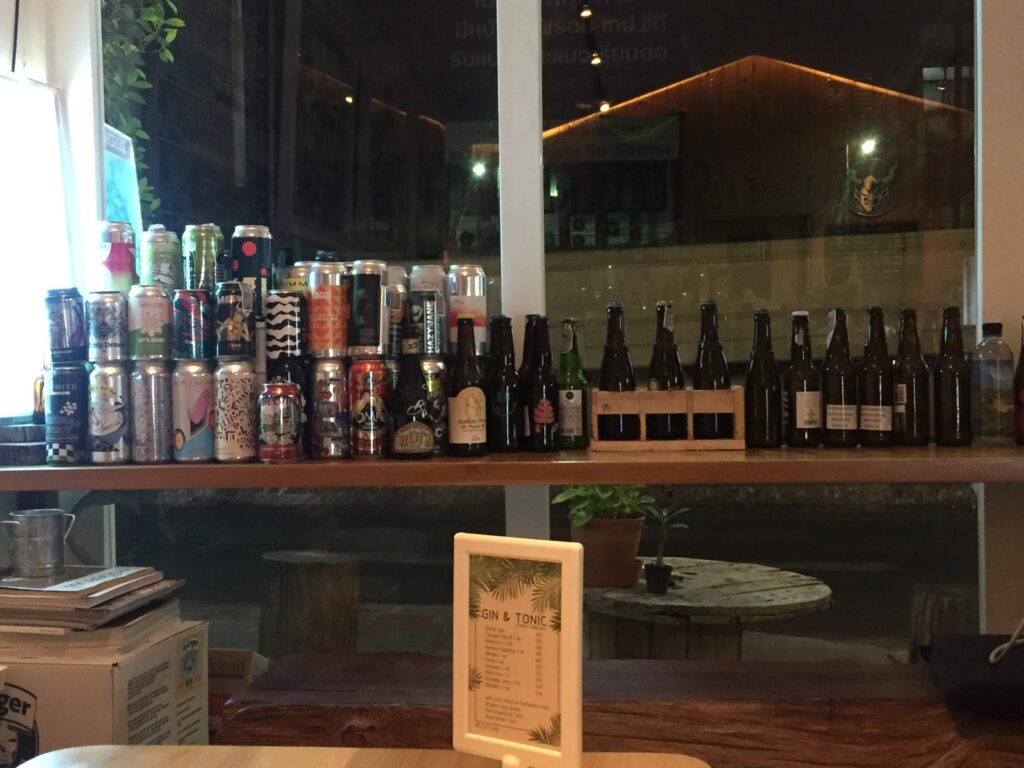 Hubby was so delighted with their craft beer offerings! 🙂 But of course, we cannot stay there all night. So after three bottles, we paid and started walking that scary path again. Hubby said that trip to the shop was worth it. Before going back to Lub-D, I asked him to treat me to McDo. I'd like to have some of their pies again.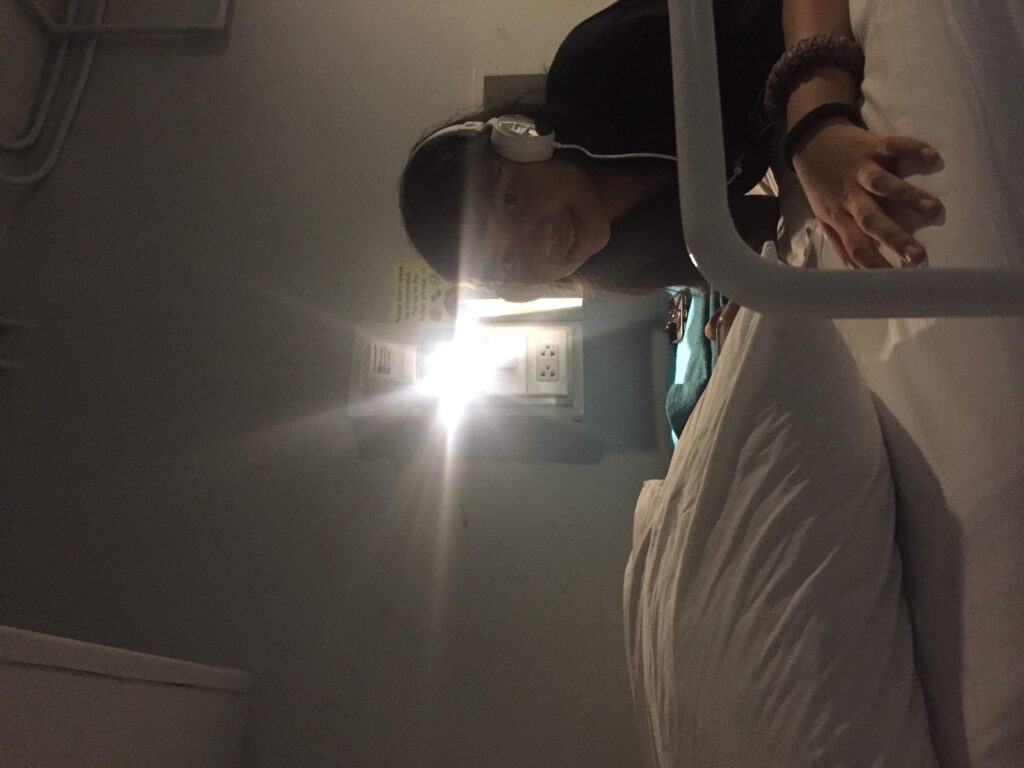 We cleaned up and started getting ready for bed. What a day! Thank you, Lord, for this tiring but wonderful day in Bangkok! 🙂